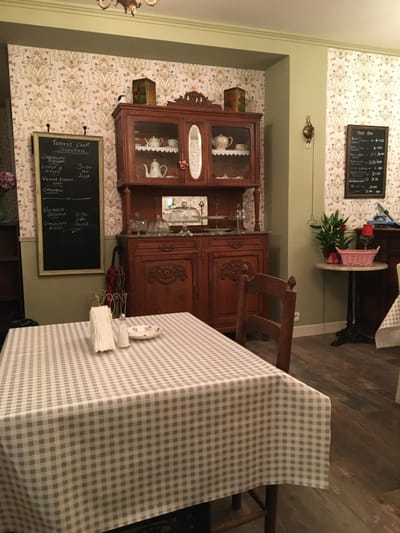 Our unique vintage English tea room is located in the heart of Chabanais, just above the bridge over the Vienne. In a few minutes, you will find the magnificent gardens of the Arboretum du Chêne Vert, the Canoë-Kayaks in Exideuil and a little further, Cassinomagus, the Lacs de Charente and the Parc Adventure Massignac. We wanted to offer Chabanais and his visitors something different, so come and enjoy a glass of wine or a beer with your homemade meal. Enjoy our varied selection of hot and cold drinks, light meals and a range of cakes and sandwiches inside our tearoom. We have outdoor seating in front of our tearoom and offer free wifi, disabled toilets, with outdoor and nearby parking, as well as a unique loyalty program for our loyal customers. We accept cash, Apple Pay, and credit and debit cards.

Our traditional menu and constantly changing table can be eaten on site or taken away if you are in a hurry. We can also sell a family portion of our dishes if you want to have a few extra slices at home.

If you're missing out on your British treats, our Pantry is open to you and we've got a great selection of everyone's favourites and at great prices. So if you need English sauces, pot or Indian sauces or Cadbury chocolate, we will do our best to keep our shelves fully stocked. We also stock a great selection of Christmas cards and cards for all other occasions.

Reservations are not essential but recommended to avoid disappointment, please contact us by phone, ideally with 24 hours notice. We also run a private function outside of our normal hours and will do our best to accommodate groups or larger bookings.

Check out our Facebook page - "La Vienne Tearoom & British Pantry" to stay up to date with our latest events and offers.

Please note we close French Bank Holidays and operate a 4 day week during winter months and are open from 10.30 to 15.30 SUNDAY, MONDAY, TUESDAY AND WEDNESDAY.