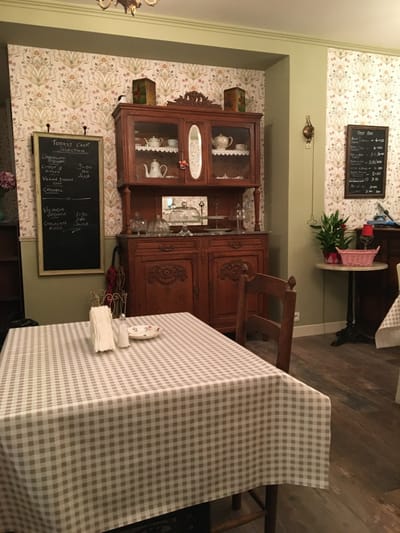 Our unique vintage English tea room can be found in the heart of Chabanais, just over the bridge crossing the La Vienne. Within a few minutes you can find the beautiful gardens at Arboretum du Chene Vert, the Canoe-Kayaks at Exideuil and slightly further away, Cassinomagus, Lacs de Charente and the Massignac Adventure Parc. We wanted to offer Chabanais and it's visitors something different, so come and enjoy a nice glass of wine or a Beer with your meal. Enjoy our varied selection of hot and cold drinks, light meals and a range of cakes and sandwiches inside our Tearoom. We have outdoor seating in front of our Tearoom and offer free wifi, disabled toilets, with parking outside and nearby, alongside a unique loyalty scheme for our returning clients. We accept Cash, Apple Pay, and Credit and Debit cards.

Our traditional Menu and ever-changing Blackboard can be eaten in or taken away if you are in a hurry. We can also sell a family size portion of our menu items if you want to have a few more slices at home.

If you miss your British treats our Pantry is open to you and we offer an excellent selection of everyones favourites and at great prices too. So if you need English sauces, miss Fairy Liquid, Marmite or Indian sauces, and bakery items, we will do our best to ensure our shelves are stocked for you. We also offer some frozen products and we can also order items for you if you are a regular visitor.

Bookings are not essential but recommended to avoid disappointment, please contact us by phone or email, ideally with 24 hours notice. We also host private function outside our normal hours and we will do our best to accommodate groups or larger bookings.

Check out our Facebook page - 'La Vienne Tearoom & British Pantry' to keep up to date on our the latest events and offers.
.